Artist's Statement
My inspiration is everywhere. Most of my watercolors represent outdoor scenes, San Francisco and the East Bay, but also some more intimate spaces, such as cafes and interiors.
In the landscapes, I use photographs and make a composite of several taken at different locations, the purpose being not to reproduce the reality seen by the camera but rather to recreate a certain feeling or emotion where light always plays an important part.
The city has an environment of mixed culture and architecture, which gives a visual patchwork that is alive and interesting to paint.
Starting with small black-and-white sketches and usually ending with a very precise drawing, almost nothing is left to chance. In the same way I do a precise research for my colors. Probably this research helps to have a clearer vision of the whole picture without being lost in details once the realization process is started.
After training in a graphic arts school in Paris, where the focus was drawing and composition, I worked in Paris for several years as an illustrator for books, magazines and advertising agencies. In 1990, I moved to California and started to paint.
I am influenced by works of numerous painters including Vermeer, Rembrandt, Corot, Innes, Vallotton, Bonnard, Hopper, Doig and by the illustrations of Nascimbene.
I hope you will enjoy my work.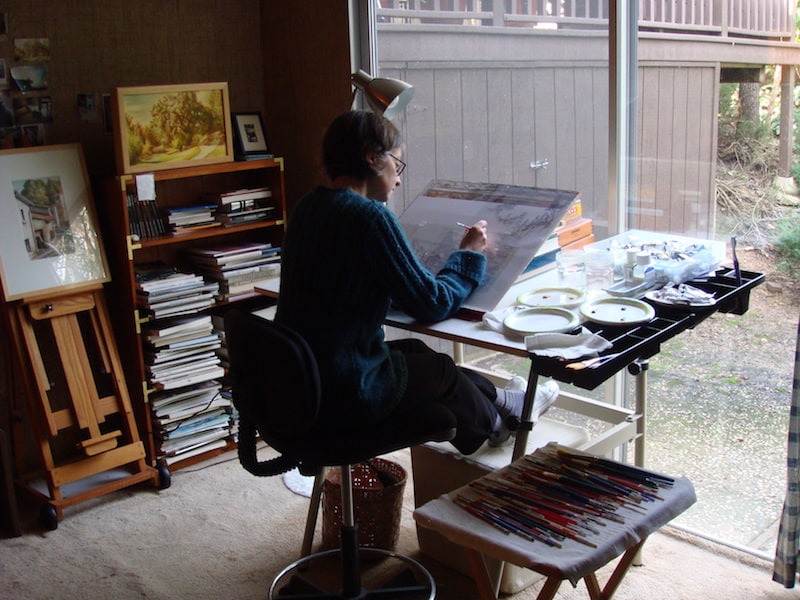 Marie in her studio in Pleasanton, CA
CV
Education
Ecole Nationale Superieure Des Arts Decoratifs, Paris, France, 1979-1980
Ecole Superieure d'Arts Graphiques, Paris, France, 1978, 1980-1982
Graduated first in her class in 1982 with the  » Diplôme Concepteur-Graphiste »
Employment
Worked as a free-lance illustrator in Paris, 1982-1988
Projects included magazine illustrations and book covers
Has been painting and participating in Art shows since her arrival in California in 1989
Participation in Art Shows
Bankhead Theater, Livermore, California
Triton Museum, Santa Clara, California
California Art League, Sacramento Fine Arts Center
Roseville Art Center
California State Fair
Gallery Concord, Concord, California
San Francisco Women Artists
Ebert Gallery, San Francisco, California
Olive Hyde Gallery, Fremont, California
University of the Pacific, Stockton, California
California Museum of Art, Santa Rosa, California
Berkeley Art Center
Royal Ground Gallery, Piedmont, California
Women's Art Works National Exhibition, Rochester, New York
Greene County Council on the Arts, Catskill, New York
Artists Contemporary Gallery, Sacramento, California
Christensen – Heller Gallery, Oakland, California
Thomas Reynolds Gallery, San Francisco, California
John Natsoulas Gallery, Davis, California
Adobe Gallery, Castro Valley, California
Hayward City Hall, Hayward, California
Blackhawk Gallery, Danville, California
Los Gatos Art Museums Gallery, Los Gatos, California
FireHouse Arts Center, Pleasanton, California